Custom Courses and Tours
We would be happy to set up a custom instructional course or guided tour, tailored to fit your needs and schedule.

We require a minimum of 6 people, for a minimum of 3 days. The cost is $250 CAD per person per day, which includes all equipment, food and us, your friendly guides. Additional costs for boat drop offs or wilderness lodges are not included in this price.

Setting a custom trip up is easy. Start by sending us an email (link in right column). Let us know how many people, when you want to go, and what you'd like to do.

Guided Tours
Imagine waking up on a mile-long beach to the sound of waves lapping gently on the shore, and the smell of fresh coffee brewing. Over a breakfast of scrambled eggs with fresh salsa, the guides outline the plan for the day: perhaps a day-trip to a secluded cove, where you'll visit an ancient grove of giant sitka spruce, or maybe a circumnavigation of an offshore island.

Kayaking is an excellent way to view wildlife—from the magic of a tide-pool to the majesty of a soaring eagle. With luck, you may see timber wolves, sea otters, killer whales, or some of the gray whales who spend their summers here.

There's no shortage of fun while we share our intimate knowledge of the area's natural and cultural history. Our touring style is relaxed, yet adventurous. We travel at a leisurely pace, with frequent stops to stretch our legs and explore. There's lots of time for reading, walking the white sand beaches, socializing, and simply relaxing on the beach!

No paddling skills or previous experience are needed to join our guided tours. High levels of fitness are not required—anyone who enjoys being physically active can participate in this trip.

The kayaks and accessories, tents, group camping gear, and meals are provided. All you need to bring is your personal clothing, sleeping bag and pad, and a sense of adventure!

Vargas Island Inn
If you want to get out of town but the idea of camping out doesn't grab you, welcome to the Vargas Island Inn. An hour's paddle from Tofino, this rustic inn is the perfect getaway. Facilities include a seaside wood-fired sauna, shared showers and bathrooms. Definitely not a 5-star establishment, the Inn is renowned for its down-home comforts and genuine west coast character. It also happens to be perfectly located for a variety of day paddles or hikes to the outer coast or protected waters. Day-trip destinations might include the world-famous Meares Island Big Trees Boardwalk, or the mile-long sandy beach in Ahous Bay on the west side of Vargas Island.

Cost of the Inn is not included in trip price, but is quite affordable at $35 per person per night.


Courses
With our decades of experience teaching sea kayaking, we can design a course for you that will take you to the next level in your paddling skills. From downtown Tofino, we can then quickly get you into appropriate conditions, and help you make a quantum leap in your abilities. Below is a mix-and-match menu of instructional sessions to get you thinking and dreaming.

Custom courses can be based in Tofino, or the Vargas Island Inn, or wilderness camping-based.

Send us an email (link near top of page in right column). Prices and conditions at top of page.


4-Hour Skills Modules
First Strokes
This clinic is for those who want a short brush-up or introduction to basic kayak skills and safety. You will learn about kayaking equipment, how to get in and out without tipping over, paddle forward, stop, and turn the kayak.

Rescues
This clinic is for those who want a short brush-up or introduction to kayak rescues and safety. We take the time to teach you how to tip over and get out of the kayak ("wet exit"), to perform a paddle float self-rescue, and group rescues including the sling rescue, and simple assisted re-entry.

Seamanship & Navigation
This clinic is for those who want to learn or brush-up on the basics of navigation and trip planning. You will learn to read nautical charts, use tide tables, interpret marine weather forecasts, and will gain the skills and knowledge needed to plan your own trips.


One-Day Skills Modules
Adventure Kayak Basics
Planning a kayak trip in Clayoquot Sound with friends? We can organize a one-day course to instruct/review strokes, rescues, seamanship and navigation, with a focus on conditions you can expect to encounter locally.

Tidal Currents
The ocean is like a big lake that behaves like a big river at many points along the coast. Learn how to use charts and tide tables to detect and thus avoid such locations. We will then visit a small tidal rapid near Tofino, where you will learn basic moving water manoeuvres such as crossing eddy lines and doing ferry glides.

Paddling in Surf
Even if you never plan to paddle the open coast, nothing will boost your skills as quickly as a day in the surf - wind waves just won't look as intimidating any more! We'll start off learning to high brace on flatwater. Then we'll drive to Long Beach and spend the rest of the day learning to play in the surf zone.

Open Coastal Paddling
Intermediate paddlers often visit Clayoquot Sound, planning to tour the outside of Vargas or Flores Islands without a guide, not really understanding the consequences of tackling the open coast. We can customize a session to prepare you for such a trip.
---
---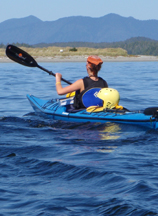 "Dan and Bonny obviously love what they are doing and it carries through to their teaching. I call it teaching, but they were really asking me questions, making me think and discover and learn by myself. Every day I'm out on the water I think of the things I learned from Dan and Bonny. They are also very patient, organized, and funny."
—Natalie, BC