Sea Kayaking
by John Dowd
In this excellent volume on kayaking fundamentals, author John Dowd writes of Dan's courses, "What I consider to be close to the ideal kayak class, combining a balance of experiential learning and direct instruction, with theory presented where it is most effective - in the field."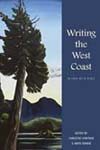 Writing the West Coast: In Love with Place
Edited by Christine Lowther and Anita Sinner
Check out this anthology which includes an essay by Bonny! She writes about commuting by kayak, describing some of her close encounters with wildlife as well as some of the paddling situations she has encountered-both the challenging and the exhilarating.